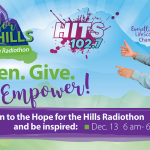 Because of awesome listeners like you, you've helped Hits 102-7 raise over $70,000 for children and adults with disabilities in Western South Dakota through our Hope for the Hills Radiothon for LifeScape.
On December 13th, Hits 102-7 will host the 3rd annual Hope For the Hills Radiothon. In addition to the great music you're used to hearing on your favorite station, you'll hear wonderful stories about the children and adults in our communities and how LifeScape has helped them & their families. Plus, you have the opportunity to donate your own gifts to help kids with disabilities in Western South Dakota–with 100% of funds staying local!
Thank you from LifeScape & Hits 102-7!