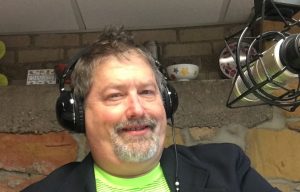 Mike in the Afternoon
Hey it's Mike from Hits 102-7.
My full name is Mike Swafford just so you'll know who they're talking about if you're listening to a police scanner late at night. I came to Rapid City from Kansas City years ago and it's now my home. I'll always make you feel better about your life when you hear the things I get myself into. I am an open book much to the dismay of my family. Yes I share everything. Including when I got married in Vegas and we streamed the wedding online. I didn't however stream the divorce online four years later. I did however share all the fun details of my heart attack. Now we've moved to new studios and Brooke and Jubal are on in the mornings and I get to sleep in. Not only do I get to sleep in now and work afternoons from 3 – 6 pm but I have windows now. I love the the fun I have here with Jill and the rest of the great team at Hits 102-7!